Newmarket Race Course and the Gates family
Big Time Horse Racing on the Danforth, 1853 to 1912
Introduction Acknowledgements Excerpt:Danforth in Pictures
Charles Gates years, 1853 to 1872 Later years, 1872 to 1912 (coming soon)
Barbara Myrvold, April 2018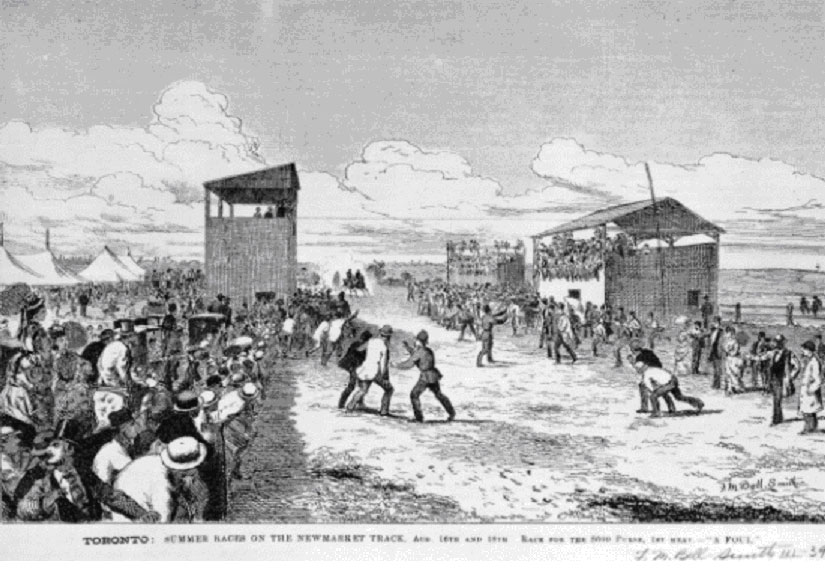 Toronto. Summer Races on the Newmarket Track
, Aug. 16th and 18th, 1875.
Several local streets on the north side of the Danforth between Oak Park and Chisholm avenues are named for famous English race tracks: Newmarket, Gatwick, Epsom, and Doncaster. But only Newmarket Avenue commemorates a local race course, which was on the site for almost 60 years. The adjacent Gates Avenue recognizes the Gates family, who for all of those years, 1853 to 1912, owned the 50-acre property where the Newmarket race track was located.
The importance of the Newmarket track and the Gates family in the history of the local area and of Canadian horse racing is now largely forgotten, despite the two local street names and various articles written about them over the years. A brief history from my 1979 study, The Danforth in Pictures, is reproduced here.
It is surprising that City of Toronto planners did not mention the track (or almost any other local historical landmarks) in the "Heritage overview" of their Danforth Avenue Planning Study Area Profile Report, released in March 2017. Local historian Gene Domagala pointed out the lack of heritage recognition at a public meeting to discuss the study held in early January 2018. He included "Queen's Plate at Newmarket Racetrack" in his follow-up article, "Main and Danforth, a historic area," published in Beach Metro News a few weeks later.